Custom Cellar Doors Installed by The Bulkhead Man & Sons LLC
Custom steel cellar doors and bulkhead installation in NH and Northeastern MA
The Bulkhead Man & Sons LLC is the authorized installer of custom cellar doors in Mont Vernon and NH and Northeastern MA. We only install top quality cellar and bulkhead doors, and that is why we trust the integrity of our custom and pre-fabricated cellar doors which are made in the U.S. from top-quality steel. Whether you're looking for a replacement cellar door or bulkhead or a new construction, The Bulkhead Man & Sons LLC has a solution for you.
Contact us today to schedule your on-site consultation and get a free cellar door estimate.
Cellar Door Styles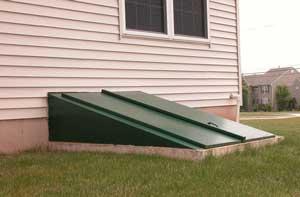 Custom & standard size cellar doors installed by The Bulkhead Man & Sons LLC are made of high-quality steel for safety and durability.
When choosing a basement or cellar door it's important to consider both security and style. The Bulkhead Man & Sons LLC takes the stress out of picking the highest quality products as we install Our steel cellar doors in a wide variety of colors and styles. The Bulkhead Man & Sons LLC's professional installers can help you choose the best cellar door installation option for your home and budget.
Angled cellar doors
Flat cellar doors
Along-side cellar doors
Angle-on-angle cellar doors
Corner cellar doors
B-style cellar doors
Steel Cellar Door Products
Steelway Cellar Doors has been manufacturing custom steel cellar doors and pre-fabricated steel cellar entrances since 1963.
Steelway Cellar Doors offers a wide variety of custom and pre-fabricated bulkhead and cellar door styles at all price points to fit your needs.
Features of Steelway Cellar Doors:
100% steel construction
Custom built - no stock sizes
Fully-welded joints - no bolts
Spring-assisted hinges
Multi-coat iron oxide primer
Weather-tight design
Cellar Door Styles:
Angled
Flat
Corner
Along-side
Angle-on-angle
B-style
Why Choose The Bulkhead Man & Sons LLC Cellar Doors?
Improved security: Our cellar doors are designed with security in mind. Their fully-welded designs feature interior hinge and lock systems that prevent unwanted intruders from gaining access to your home or business.
Easy operation: Our cellar doors include a spring assist when door weight or size interferes with the ease of operation.
Unlimited size selection: Since every door is made to the exact measurements of the job site, costly extensions and inappropriate add-ons are a thing of the past.
Long-lasting performance: Heavy-gauge hot rolled steel, fully-welded joints and multiple iron oxide primer coats are just a few of the exclusive features that will ensure years of durable performance when properly maintained.
For a free estimate on a new bulkhead or cellar door, contact your cellar door installation experts at The Bulkhead Man & Sons LLC today to schedule an on-site consultation with one of our specialists.